In 2012, I almost committed myself to a mental hospital. I was willing to do whatever it would take to get as far away from my computer as possible.

Every time I opened my Macbook I felt as though I was being crushed under the weight of everything I had to manage.

I had a digital-mental meltdown.

The most common tasks, like checking email and searching for files, was unbearable. Rationally I knew this was ridiculous. But I swear as soon as I flipped open my computer my brain stopped working. My focus was fried, and I couldn't pay attention to anything for more than a few minutes. I couldn't prioritize, set goals or make decisions if I was in front of my computer. If whatever I was trying to do required even a little bit of multitasking, forget about it, I'd lose it immediately.

It continued to get worse as the year went on. I thought I was going insane, and I had no idea what to do. I've spent most of my adult life working on my computer. How was I to survive in this world if I couldn't open on my computer without having a panic attack?

Looking back, I was just experiencing an extreme reaction to the everyday reality we all face–we're expected to do more, our time is limited, and we're being assaulted with an unprecedented amount of information to remember and small things to keep track of. We allow our technology to take over because it serves as an extension of us, an extension of our mind, which we desperately need to help us handle everything.

We're running fast just to stand still, and it's exhausting. We're sleep-deprived, overstressed and not making enough time for the things we want to do.

The good news is: I know we can do better.

I know because I've made every aspect of my digital world work for me and not the other way around.
Simply put, I've made my computer my bitch.

I've regained a sense of order and taken back the hours of lost time spent trying to overcome digital disorganization and information overload.

Since taking my life (and mind) back from digital despair, I can't help but notice that my friends, colleagues, and even the most successful people I know, are struggling. Like them, you may not have lost your marbles like I did, but:
you feel like you're drowning in your work and although you've created a lot, as evident by the thousands of files you have saved on your computer(s) and external hard drive(s), you still can't shake the feeling that you're falling short
you're frustrated because you can never find what you need when you need it
you're overwhelmed by all the stuff you have to get done and are reminded every day of that fact by all the files and folders that are completely covering your computer desktop
you've given up on trying to take control of your workday because, well... what's the point
Whatever level of digital chaos you face, I want to help you take control of your work and see what an impact it can have on your business. I want you to avoid reaching the brink of insanity like I did, so I'm showing you everything I learned about digital organization and teaching you a simple framework to get it all under control now and forever.

I know the value of having a working knowledge of how the brain processes information and how an organized mind leads effortlessly to good decision-making. It's helped me manage my time, attention and focus better, not just so I can be more efficient, but so I have more time for fun, play, and creativity.



Are you ready to reclaim your life from your computer?

If you're saying to yourself heck yah I'm ready! ... I'd love to show you how
Introducing the most modern training program available for designing your perfect digital workflow.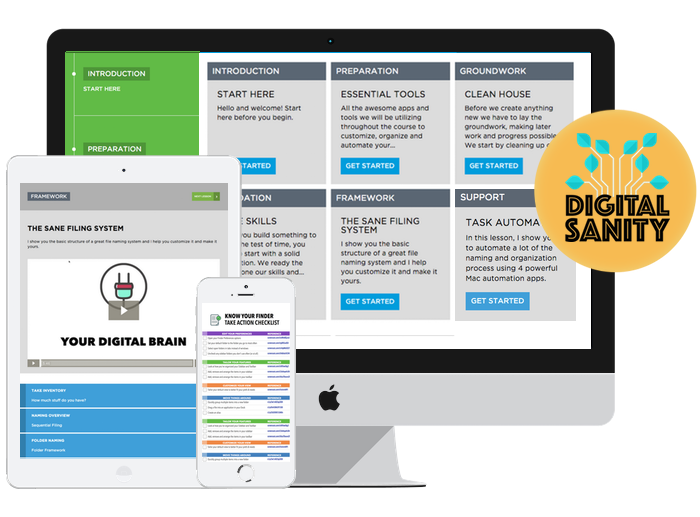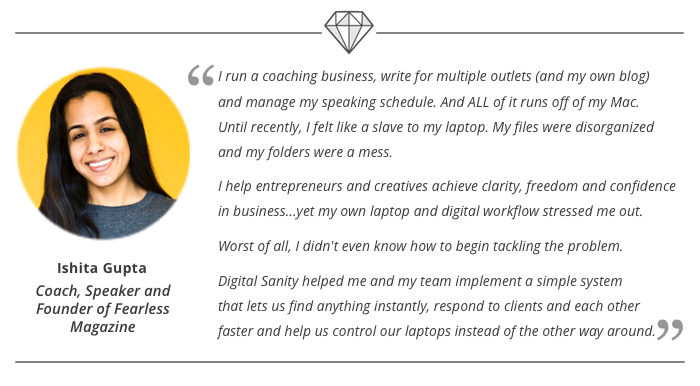 ​
Digital Sanity can teach you the system necessary to organize, categorize and keep track of things.
By the end of the course, you will have…
A clean and organized computer, free from old and unnecessary folder and files
Advanced Finder skills allowing you to navigate your files like a ninja and find what you're looking for 100 times faster than before
An understanding of how the brain processes information and how to use those scientific principles to organize your digital world
Your own custom naming framework that makes everything easily accessible so you don't have to dig around for anything, ever again
A sequential filing system where you control how files and folders automatically organize themselves

This course is like nothing you've seen before.
I've worked for over a year to put together a step-by-step course to help you take action and reclaim control of your life from your computer.
When you become the master of your digital workspace, the place where you create, save and share your work and ideas...you free up the energy and creative brainpower you need to do your best work. You finally achieve...Digital Sanity. If you're ready to take control of your workday (and your sanity), this course will get you there. Here's how:
15 hours of easy-to-follow video screencasts and tutorials
10 pages of complimentary resource guides, worksheets and cheatsheets
The best naming system ever, customized to you and your unique way of thinking and working
The exact system I use to create a well-organized, semi-automated digital filing system
10 demonstration videos where I show you how to use automation tools that streamline the process and save you tons of time
My personal Mac tricks and tips to navigate your computer and find what you're looking for super fast
Loads of bonus materials including extra videos, guides, worksheets, pre-configured + uploadable files and access to the private online community
You get it all in an easy-to-navigate members-only website that's available immediately, so you can learn at your own pace
The best part – save hundreds of hours by learning how to organize, categorize, and keeping track of things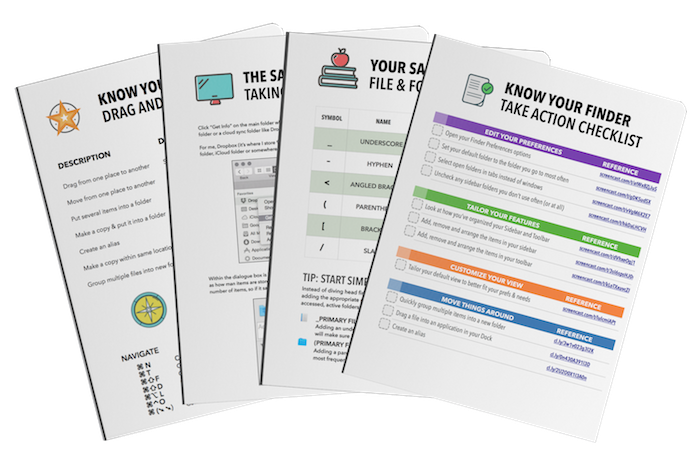 ​